Last Saturday found us
Snoop
-less and at the local cardboard regatta, where the locals raced some pretty impressive cardboard boats.
The regatta wasn't quite what we had hoped for (chaos and mayhem as a few dozen cardboard boats upturned and sank), but there were some great moments. I got some of it on film and video.
We took up a spot off to the side, and I was leaning against a pole when I looked up and saw this:
A bat house! I love bat houses! I want to put one up at my place at some point.
All of the boats were built out of cardboard, and wonderfully decorated. Here are a few of my favorites.
The Viking dragon boat...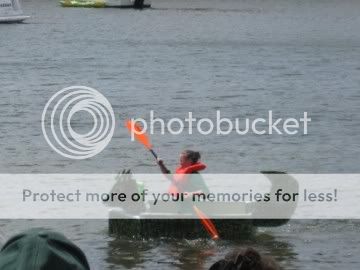 This looked like a Budweiser speed boat...
A yellow submarine...
...which wound up flipping on it's side...
(The two rowers were okay.)
There was this great little bulldozer...
Tank Zilla, which I'm guessing may have been submitted by the propane gas company, but it looked like a big green capsule...
This cute little bed. Notice the girl in the center holding a giant storybook...
This monstrosity held about a dozen Alcohol, Tobacco and Firearms employees...
During the the race against another monstrous boat, they pitched black water balloon "cannonballs" at their competitors.
And our favorite, the Lotus...
The Lotus wound up winning its race, and took a little victory lap with red and blue smoke streaming out of the back.
The funniest boat was this one, which was clearly built out of cardboard...
It looked like it was just a bunch of boxes duct-taped together. It was always tilting and on the verge of flipping over or sinking, but never did. Everyone cheered them on, and by the end of the race, the boat was visibly wet and collapsing in on itself.
Here's some video of them in action.
There was also a video camera attached to a remote controlled helicopter, and it would sometimes zoom in for better video footage. Here is a little video of the helicopter in action.
It was an interesting, if well-organized and controlled, diversion from our normal days. I'd probably do it again, if there wasn't anything better to do.