Friday night Woodrow and I had the wonderful opportunity to attend a music and art event at the Reserve Cigar and Wine Bar. Our friend Stacy has a promotions company called
King Leo Promotions
, and is involved with various artistic events in the area. She currently promotes mainly reggae and soca artists.
The Reggae and All That Jazz event (brought to us by
King Leo Promotions
, Jazz on the Green, WZJZ 100.1 Smooth Jazz,
Ontonio Designs
, The Reserve Cigar and Wine Bar, and The Children's Charities of Southwest Florida) was featuring reggae artist
Kehv
and New York Latin Jazz artist Tony Pastrana. They also had the artwork of Ontonio Christie on display.
The event was to begin at 8 PM, so we arrived a little early to get a good seat. However since I forgot to get photos of the outside of the building, these were taken when we were leaving at the end of the night.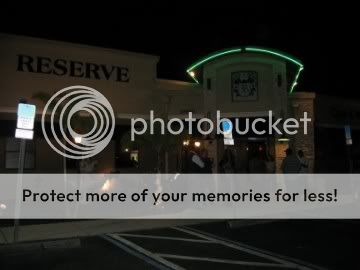 We went inside and saw our friend Stacy, who had gotten us on the guest list. I got a shot of Stacy and Kim Giles of
Beyond One Entertainment
.
I asked Stacy whether it would be okay if I took some pictures of the cigar bar, and she said that there would be no problem. Here is a shot of the unbelievable chandelier in the entrance foyer...
...and of the stage area.
I think that some members of the latin jazz band were a little late getting there, so the show wound up not starting until around 9 PM. But once they got going, they really got the place jumping.